About Us
Air transportation in Nestor Falls was started back in the late forties by Red Swanton. He transported fishermen to Kay Lake and Kishkutena Lake with a Waco and a Fox Moth from the old base on Lake of the Woods known as Clearwater Air Service. In the early sixties Red sold his charter to Ralph Showalter when it then became Northwestern Flying Services.
The company changed hands a few more times up until 1987 when Jack Pope and Glen McLeod acquired the property changing the name to Northwest Flying Inc. 1992 brought sole proprietorship by the Pope family who still run the business to this day with Jack's son Shane and wife Gina.
Click here to see the virtual tours of our offices...
The photo gallery requires at least Flash version 9.0.28.
Please install the latest FlashPlayer.
Our Fleet
Beech 18
Northwest Flying has 2 Twin engine Beech 18's on floats, seats 8 people. Payload 2000lbs.
Click here to see the virtual tour...
On January 15, 1937, the Beechcraft Model 18 made its first demonstration flight at the factory in Wichita, Kansas, and it continued in production for thirty-two years. This low-wing, all-metal, twin-engine monoplane was originally intended as a six-to-eight-passenger executive or feeder airline transport. As the years passed, however, the Model 18 was adapted to many uses and, in all, thirty-two different versions were produced.
When production began on the Model 18 in 1937, there was virtually no market for this airplane in the United States. At the time, air transportation in the United States was a trunk line operation, and few feeder lines existed. Acceptance of the Model 18 by foreign and charter lines was immediate, however. The Model 18A, which also operated on interchangeable ski- or float-landing gear, was an ideal adaptation for snowbound areas and for lake and inter-island service. Prairie Airlines of Alberta, Canada, for example, ordered several of these airplanes for use in delivering air mail over a route that extended from Prince Albert to North Battleford, south to Saskatoon and Moose Jaw, finally joining up with the main route of Trans Canada Airlines at Regina. Also, businessmen were favourably impressed with the performance of the Model 18 as an executive transport, with orders coming from Alaska, Canada, and Puerto Rico.
On January 13, 1939, Beech began negotiations with the U.S. government on a contract for a photo reconnaissance version of the 18. Fourteen of these aircraft, designated Type F-2, were ordered as part of the Emergency Procurement Program. This order was followed by a contract for eleven C-45 personnel transports. Later that year, Beech began negotiations with the Chinese government for a bomber trainer. This version had a clear plastic nose, a single gun turret on the upper fuselage, and a machine gun in a tunnel in the rear floor. It also had internal bomb racks, which carried up to twenty 25-pound bombs.
1939 also saw a standard Beech 18S set a new flight record while on a demonstration tour, flying from Bogota to Barranquilla, Colombia, a distance of 450 miles, in 1 hour, 54 minutes. Later the same airplane made a 1,350-mile flight from Maracay, Venezuela, to Miami, Florida, in 6 hours, the first known non-stop flight between those two cities. To further demonstrate the capable performance of the Beech Model 18, Walter Beech entered a D18S in the 1940 Macfadden Race from St. Louis to Miami. With "Ding" Rankin as his pilot, Beech crossed the finish line in Miami in 4 hours, 37 minutes to win first place. Their average speed for the flight was 234 mph.
World War II brought more orders for military versions of the Beech 18S from the United States and foreign governments for a wide range of uses. About 90 percent of the U.S. Air Force's navigators and bombardiers received their training on AT-7s and AT-11s respectively. The U.S. Navy SNB-1 was similar to the AT-11, the SNB-2 to the AT-7. The JRB-1 was a radio-control airplane for target or drone aircraft. The Navy's personnel transports similar to the C-45 were known as JRB2, JRB-3, and JRB-4.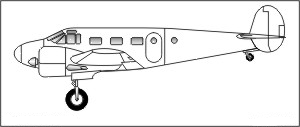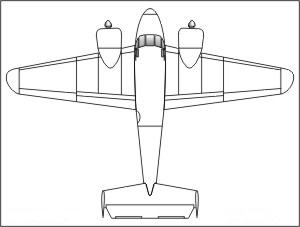 With the end of the war came the end of military production, although many of these aircraft remained in service for years. By October 1945 Beech was back into full commercial aircraft production. The first aircraft off the line was the newest model, the D18S, which incorporated a number of improvements. Structural modifications allowed for an increase in maximum weight and new landing gear, brakes, and tires were installed. Two 450-hp Pratt & Whitney Wasp, Jr., engines with Hamilton Standard constant speed propellers powered the D18S. It was the premier executive transport among businessmen and it was also used by the new local service airlines that emerged after the end of World War II.
On December 10, 1953, the prototype of the Super 18, the last version of the Beech 18, made its first flight. The last three production aircraft were delivered in November 1969. More than 9,000 Model 18s were produced since 1937, and, in 1970, more than 2,000 were still being flown in the United States alone.
DeHavilland Beaver
A real work horse, seats 6 people. Payload 1200lbs
It has been registered to Northwest Flying Inc. of Nestor Falls,ONT since 30may80.In the immediate post-war era, de Havilland Canada management turned to the civilian market for continued work, aware that military contracts were unlikely to guarantee business. The company had recently hired Punch Dickins, a famous bush pilot, as Director of Sales, and he began an extensive program of collecting requests from other pilots in order to understand what they needed in a new aircraft. Almost without variation, the pilots asked for tremendous extra power and STOL performance in a design that could be easily fitted with wheels, skis, or floats. When de Havilland engineers noted that this would result in poor cruise performance, one pilot replied "You only have to be faster than a dog sled". Other suggestions were seemingly mundane but important in the bush plane world; for instance, full-sized doors were installed on both sides of the aircraft so it could be easily loaded no matter which side of a dock it tied up on. The doors were also made wide enough to allow for a 45 gallon drum to be rolled up into the aircraft.
On September 17, 1946, de Havilland officially put together a design team consisting of Fred Buller, Dick Hiscocks, Jim Houston and W. Jakimiuk, led by Phil Garratt. The new aircraft was specifically designed to be all-metal, unlike older designs like the famous Noorduyn Norseman, using "steel from the engine to the firewall, heavy aluminum truss frames with panels and doors throughout the front seat area, lighter trusses toward the rear and all monocoque construction aft". At the time de Havilland Canada was still a British company, and there were plans to fit the evolving design with a British engine. This limited power, so the wing area was greatly increased in order to maintain STOL performance. When Pratt & Whitney Canada offered to supply war-surplus 450 hp (340 kW) Wasp Jr engines at a low price, the aircraft ended up with extra power as well as the original long wing. The result was unbeatable STOL performance for an aircraft of its size.
In 1987, the Canadian Engineering Centennial Board named the DHC-2 one of the top ten Canadian engineering achievements of the 20th century.
Cessna 180
Good for smaller loads, seats 3 people. Payload 630lbs
The 180 is considered a workhorse of an airplane, and is favored to this day as a bush plane by many who fly to and from remote, unimproved airstrips in places such as Alaska and distant parts of Canada, the Pacific Islands, and Africa. The 180 is the preferred aircraft of the Colorado Division of Wildlife for monitoring wildlife and re-stocking fish in remote mountain lakes; it is also used by the Montana Department of Natural Resources and Conservation. The New Mexico State Police Aircraft Division was created after it acquired its first aircraft, a fixed wing Cessna 180, on loan from the State Corporation Commission.
The Canadian airlines Lamb Air and Norcanair operated several 180s. A number of 180s continue in similar roles throughout the world.